What is Mechanic Advisor?
Mechanic Advisor is a marketing solution designed specifically for the needs of auto repair shops. No matter your scale, you can use Mechanic Advisor to run more efficient marketing campaigns, keep in contact with your audience, and analyze the results to continue improving your practices.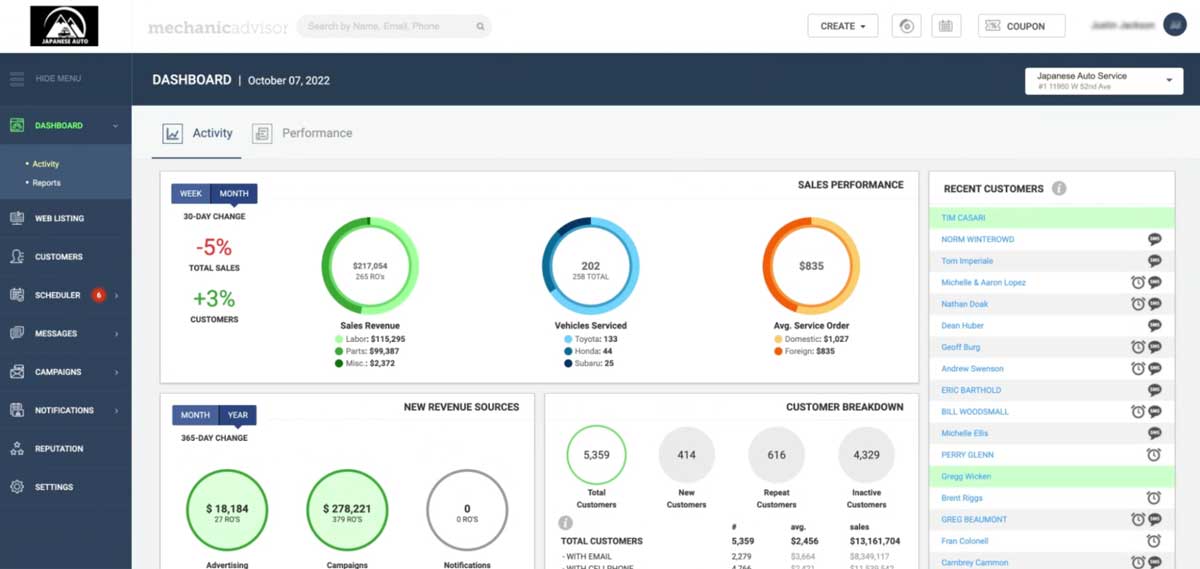 Mechanic Advisor dashboard with information about sales, vehicle service, recent customers, and more. Source: Mechanic Advisor demo.
On top of making things easier for shop owners, Mechanic Advisor also streamlines interactions on the buyer side. Your customers can easily pull up their entire history with your shop including past repairs, suggested repairs, and all prior communications. Think of it like a telehealth e-portal, but for auto repair — your customers will have convenient access to their information, and you'll end up retaining more buyers.

Mechanic Advisor customer portal with service history, recommended services, and other information. Source: Mechanic Advisor demo.
Another key benefit of Mechanic Advisor is access to its network of auto repair shops. As a Mechanic Advisor member, your business will show up whenever users search for auto repair in their area. This can be a powerful source of leads and revenue even aside from the built-in marketing tools included with Mechanic Advisor.

Campaigns dashboard with custom campaigns as well as pre-set options for both new and repeat customers. Source: Mechanic Advisor demo.
In June of 2022, Mechanic Advisor launched an automated retention marketing and communications platform called Steer CRM with the mission to to improve the auto repair experience for shop owners and their customers. Read our full Steer CRM review.
How much does Mechanic Advisor cost?
Mechanic Advisor pricing starts at $300/month.
Starting price:

$300 per month

Free trial:

Not Available

Free version:

Not Available
What's included in every Mechanic Advisor plan? Mechanic Advisor Premium subscriptions include appointment scheduling, online scheduling, local listings, 2-way text messaging and campaigns, reputation management, real-time notifications, email, custom campaigns and advanced reporting.
Which features does Mechanic Advisor offer?
Auto Repair Software Features
Text, Email, and Mailer Campaigns
Website Design
Automated Campaigns (pre-set and custom)
Marketing Analytics
Search Engine Optimization
Other notable Mechanic Advisor features
Automated marketing campaigns
Text, email, and physical mailers
Reputation management — easily respond to user reviews
Marketing analytics

View Google reviews and publish responses from the Mechanic Advisor website. Source: Mechanic Advisor demo.
What types of support does Mechanic Advisor offer?
| | |
| --- | --- |
| | Data Migration |
| | 1-on-1 Live Training |
| | Self-Guided Online Training |
| | Knowledge Base |
| | FAQs/Forum |
| | Email Support |
| | Live Chat |
| | Phone Support |
Mechanic Advisor user review highlights
We analyzed 137 user reviews about Mechanic Advisor from three third-party review websites to provide this summary.
Mechanic Advisor customers had good things to say about the company. Customers praise the onboarding process and support offered by the Mechanic Advisor team. Many said they switched to Mechanic Advisor from another CRM or texting service and were glad they did. Multiple customers report having success with Mechanic Advisor text, email, and direct mail campaigns.
Ease of Setup – Reviewers said the platform is easy to set up due to the one-on-one guided onboarding experience. One customer said that it took less than three months for staff and customers to fully utilize the platform.
Ease of Use – Multiple customers noted that they found Mechanic Advisor easy to use. They specifically covered how simple it is to set up automated marketing campaigns.
Features – Again, there were no complaints about features. Most positive comments focused on the automated campaigns. While Mechanic Advisor offers a solid toolkit, it's important to note that it doesn't provide many of the features you would expect from a conventional auto repair shop management solution. For example, there is no VIN lookup, no estimate/quote functionality, and no work order management tool.
Quality of Support – Great support was the most common feeling we found when reading through customer reviews. You should be able to call their team during business hours and get a quick, helpful response.
Value for Money – The overall value of Mechanic Advisor is good given the platform's ability to create return on investment (ROI). A Mechanic Advisor customer in Michigan even went as far to say, "It is easily the best marketing decision I have made for my business." Most reviewers clearly state they are satisfied with Mechanic Advisor and would strongly recommend it.

View trends for your text, email, and/or mailing campaigns using Mechanic Advisor's marketing analytic tools. Source: Mechanic Advisor demo.
Mechanic Advisor Contact Information
Parent Company:

None

Headquarters:

Boston, MA

Year Founded:

2006

Website:

mechanicadvisor.com/

Facebook:

facebook.com/mechanicadvisor

Twitter:

twitter.com/mechanicadvisor

LinkedIn:

linkedin.com/company/mechanicadvisor.com/

Instagram:

instagram.com/mechanicadvisor